Party Boat Hire Perth
Tradewind Charters – Your Party Venue for Hire!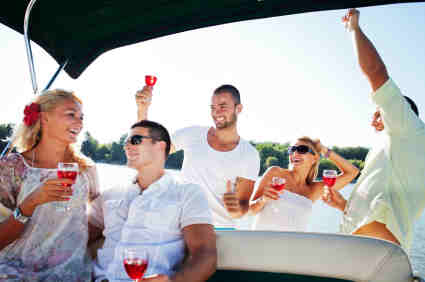 When it comes to find the perfect venue for a party or celebration, there are few settings as beautiful in the world as our very own Swan River and Rottnest Island. Tradewind Charters boats for hire are available for your next party or function on Perth's incomparable water ways.
Tradewind III is our purpose-built, 17 metre party boat for hire. Designed for entertaining and fully equipped for your function, Tradewind III offers superior passenger comfort and stability on the water.
Take advantage of the views of Perth's skyline, the majestic Kings Park or any number of notable landmarks along the Swan foreshore with your family, friends & colleagues all enjoying themselves in first-class comfort and style. When it comes to party venues, Perth has many but very few offer the full range of service and sophistication a function on board Tradewind III can offer.
Birthday Parties on Board Tradewind III
A birthday party boat charter
is a fantastic way to celebrate that special day. Your birthday party on Tradewind
III will be a party to remember whether it's cruising up the Swan River or
spending the day at Rottnest or Carnac Island. You can enjoy the comfort and pleasure
of a private cruise with all your family and friends around you.
With our fully equipped
cooking facilities and BBQ you can dine in style whilst enjoying the scenery
from the best party boat charter available. Eskies will keep your BYO drinks
cold while you enjoy the party and dance to the music played through the custom
sound system. For those who prefer old school there is a CD stacker as well as iPod connectivity.
We can arrange catering to
your budget. Tradewind III can comfortably hold up to 38 guests, with our huge
undercover back deck giving you plenty of room to dance the night away.
Call us today for ideas on
how to make your next Birthday Party a boat cruise to remember. Come aboard the
best party charter boat in Perth, a great time awaits you.
Click here to contact us for more information about the leading party boat hire Perth has to offer.